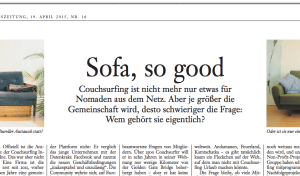 A couple of weeks ago Mikael, Callum and I were interviewed by Marlene Göring. She was writing an article about hospitality exchange for a renowned German newspaper.
Here's the article, it's in German: Sofa So Good – Frankfurter Allgemeine Zeitung (posted here by author's request). And a big chunk of it is about Trustroots! It mostly looks pretty great. I just want to comment about this part:
Im Internet lässt es sich noch träumen. Im Moment melden sich auf Trust Roots etwa 1000 neue Nutzer im Monat an. Die Währung der Plattform ist Vertrauen: niemals Werbung zu schalten, niemals kommerziell zu werden. Die Versprechen klingen wie die, die Couchsurfing einst gab – und gebrochen hat.
Three remarks about this.
The Trustroots Foundation has irrevocably dedicated assets to charity in its by-laws (as far as my understanding of the situation, happy to receive legal advice if it's not true and even better: how we can improve it). We simply cannot sell the assets, they have to be given to another charity if the Foundation ever dissolves.
It's open source. Anyone can fork. And I hope we'll have profile export functionality soon, so people can download their own data (and possibly import it into another website). This makes forking the Trustroots network easier than almost any other network out there.
We have a track record of not selling out (and of getting upset about sell outs).
Read more details in our FAQ
Anyway, exciting times!
PS. Here's a machine translated version of the article.