Community Stories, Vol. II
Welcome to the second part of our community letter to ourselves! In case you missed the first one with Covid-19 lockdown experiences, you can find it here. This time around we are travelling through the night – sleeping at police stations in Pristina, trainhopping to escape from where nobody stops for hitchhikers, and overcoming suspicion in Kończyce-Kolonia.
We hope you enjoy the read and that the stories either bring back memories of your own adventures or inspire you to future ones. A couple of months from now we will publish the next collection of stories where we want to hear about notable Trustroots experiences you've had, so send an email to [email protected] if you feel like it!
---
Don't Trust Anyone?
by Julius
So there we were, trying to sleep on the floor inside a police station. If nothing else there's the thrill of uncertainty when hitchhiking on a tight budget.
In early autumn, a friend and I found a couple of cheap tickets to Greece and decided to travel from Corfu to Thessaloniki and then north across the border to Skopje. We reached Ioannina and were shattered to find out how expensive tickets for our planned route were. The best option seemed a bus bound for Gjirokaster in Albania instead, followed by a bit of hitchhiking.
It took us two days to get to Pristina, Kosovo, and we arrived at night. We hoped to spend a few hours before taking a bus to Skopje where we had a place to sleep, but there was no timetable. By the time we found one, the last bus had already left.
With the original plan gone, we decided to explore the city and sleep at the bus station. Leaving our backpacks inside lockers we went for cheap coffee and WIFI at a nearby cafe. As we sat there, a man asked us for a lighter and sat down at another table. A few minutes later, he asked to join us and ordered more coffee.
We found out that his brother owned the café. He then asked where we were from, why we were there that late and about our accommodation. We told him about our trip. He started telling us about the dangers of being out at night and reminded us to not trust anyone. Not someone to make you feel at ease. Saying that he was a policeman, he offered us his office as accommodation. It was a strange predicament – after all, he had told us not to trust people. After some doubts we walked with him and his partner until coming to a dark building that looked like the perfect location for a crime scene. This is a mistake, I thought, we should run. But we still went up and were introduced to the guard to avoid him shooting us by mistake.
Having decided it seemed legit, we went back to the city to see the sights. After a bit of exploring we came back to the office where three officers worked hard at their computers while Albanian rap music played in the background. On the table there were a few buns, some soda and a cup of wine for us.
Later, when they were done, they told us the doors need to be locked to keep their data and us safe. Which doesn't sound too soothing, but what other options did we have? Perhaps it was due to being locked in, but I couldn't sleep well – the rocks we had slept on in Gjirokaster were more comfortable than the floor. Still, we had a safe place to sleep and when morning came the man from the cafe unlocked the door and we were back on the road. Who would have thought that this stranger, a policeman, would be our hero for that night?
Escaping Medicine Hat
by Quincy
Hitchhiking through Western Canada is normally easy – even though you might need to wait a good while for a ride, some drivers will take you to the next major city several hours away. Some years ago I did, however, discover that leaving the town of Medicine Hat, Alberta, was all but simple.
After eight hours on a scorching hot day with my thumb out and no luck, the sunset drew close and I started considering my options for the following day. Any change in my luck with hitchhiking seemed unlikely and seeing as a major freight line passes through Medicine Hat another option was trainhopping, something I had done a few times before. There are obvious risks to that – physical injury, being caught and fined, accidentally going the wrong direction, or simply wasting hours on watching trains barrel through without stopping – but you don't have to rely on the whim of drivers to take you out of a sinkhole of a town where the sun bakes your brain.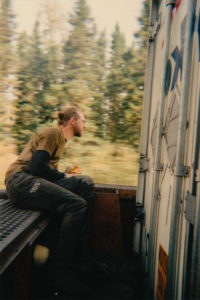 Two hours of walking took me to an old industrial area I had seen on my map, where an empty lot had both the natural cover of bushes and was close to the tracks. Dropping my backpack I explored the area further – getting a sense of the train yard, making sure I wasn't too close to workers or rail cops, inspecting an abandoned workshop filled with mechanical relics, traces from squatters, and graffiti from both small town dissidents as well as bona fide artists.
Heading back to my spot I tried to get comfortable for the night. Although I was well hidden – the rail police drove past me twice without noticing – the mosquitoes kept me awake. Some trains stopped for a few minutes, but none of them had ridable cars.
As the sky changed to the grey of early sunrise, I knew the prime-time for catching a train was almost over. But then a train full of grain cars arrived and stopped in front of me. I looked around in the foggy morning and proceeded toward the tracks. When trainhopping, the approach is always filled with the adrenaline of a cautious rush. Then you are in the car and it's all ears, eyes and panicked breathing, hoping nobody noticed and that you will leave soon.
Within minutes we started off east, the sun casting an orange light through the fog and across the grassy ditches of outer Medicine Hat. As we passed the stretch of highway I had gotten to know too well the previous day, my sleep deprivation was paired with a joyous feeling of success. I managed to sleep for a couple of hours before the train stopped to load grain where I got out to avoid the workers, following the sound of a nearby highway. After only five minutes with my thumb out, I caught a ride and was not only taken two hours into the next province, but also offered road snacks and a much needed shower.
Freight hopping being illegal it's largely a nighttime activity. Bordering on the mystical – understandable but never quite predictable – its cost is almost always a poor night's sleep. But the thrill of waiting in the dark to bag some dreamy, free ride across the country is a very empowering experience.
Home Is Where You Charge Your Phone
by Asante
Just before non-essential travel was stopped due to the pandemic, I was hitchhiking through southeast Poland on my way to Warsaw and from there Paris. Usually I cover 650 km per day, but although the last leg was less than 150 km I was still unable to arrive in Warsaw! I stood on the road with my sign and thumb for hours and no car would stop. One of the most hospitable countries in the world had quickly turned into a very hostile place for me thanks to COVID-19.
Resorting to Shanks's pony, I started off. Having stubbornly ignored my host's advice to use the national road, I was on a small one, and only got two rides before being stuck in the middle of nowhere, about 10 km from the nearest town. Reality hit me when it started getting dark and my phone battery died! I walked about 2 km until I came to a house, at a village called Kończyce-Kolonia, where I went through the open main gate to ask for help. Being cynophobic I panicked when greeted by a huge dog by the door, but strangely enough the dog neither barked or followed as I ran back to the gate. At the next house there was no doorbell, so I knocked. I heard movement, a gentleman peeped through the window and I greeted him, but when he saw a black man at that ungodly hour, he closed the curtain and turned off the light. I knocked on the door again but to no avail.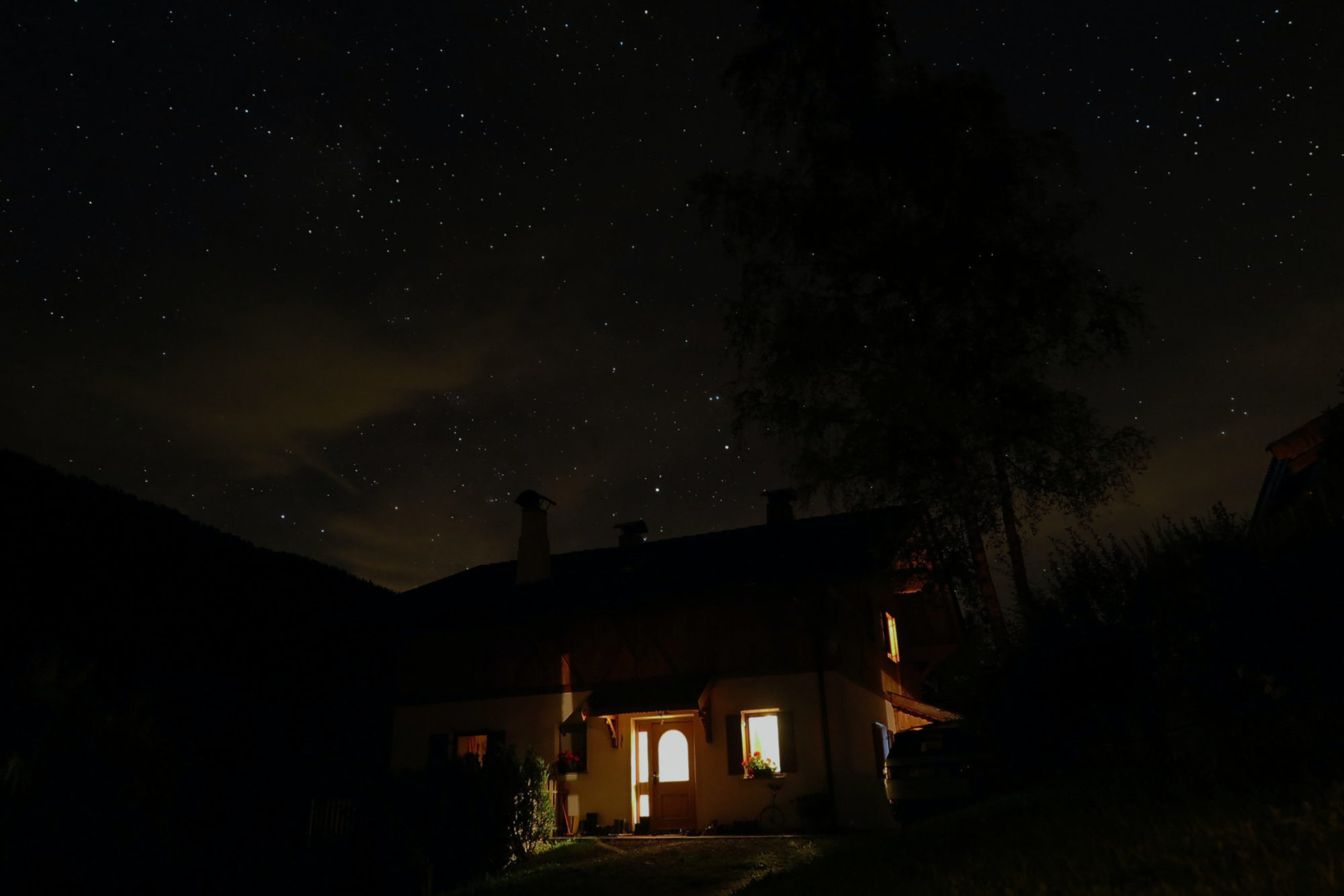 Luckily, the family from the house with the dog had followed me. Showing them my ID I told them I needed to charge my phone. They asked me follow them back to their house and on the way there, the gentleman from the second house appeared out of nowhere and came with us. They didn't speak English, so the gentleman went to call his wife, and I told them how my hitchhiking had gone wrong that day.
The first family were Marek and Basia, the second Łukasz and Ania, at that moment 4-months pregnant. Basia and Łukasz are siblings and the land they all live on belongs to their family. This was not just a place to charge my phone, they offered me food and smoothies, which I could not resist. After eating and having fully charged my phone, Ania told me that they would drive me to the nearest town and Basia prepared some snacks for my journey.
When we arrived in town, I told them I would continue to Warsaw, but after some discussion between husband and wife, Ania said they preferred driving me back to spend the night with them so I could start off the next day instead. Soon after we had returned home I headed for bed and slept like I hadn't for days! After breakfast the following morning they drove me to the Warsaw-bound hitchhiking spot in the nearby town. After only 5 minutes another gentleman stopped and took me towards western Poland.
I couldn't continue to Paris as the borders then closed. But it wasn't all for nothing. Far from it.
---
We hope you enjoyed reading the stories! As mentioned the next collection will be about memorable Trustroots experiences, so don't forget to send us an email if you have a story to tell. Have a good one until then!
Julien, Loberto, Martin A., Paula & Shawn