Contents:
*Experiences is Launched!
*HospEx Summit May 8th
*Meet the Member
*Say Hello to Warmshowers Refugees
*On the Road as a Hobo for 14 Years
*Bea's Journey into the Multiverse
*A Photo Says More Than A Thousand Words
*How to Write a Hosting Request!
*Relevant Links
---
Now you can Share an Experience about anyone on Trustroots
Experiences is launched! What is experiences? It is basically a way to leave references for those you interact with on Trustroots. We call it experiences though, because we want to encourage everyone to share their personal experience, rather than share a judgement of the persons character, which can be hard to determine in a short amount of time.

Check out more about experiences through out recent blog post here.
---
Hospitality Exchange (HospEx) Summit on May 8
On May 8, thought leaders from Trustroots, BeWelcome, Warmshowers, Couchers and Couchsurfing will be convening for a virtual summit to discuss the future of HospEx as Covid changes how platforms operate, and what is needed for the long term existence of such HospEx platforms. If you are interested to participate as a speaker, check out this form, and the Summit will happen on May 8, 8:00am Pacific, 5:30pm Central European Standard time. Keep updated here.
Meet The Member: Matthew Temple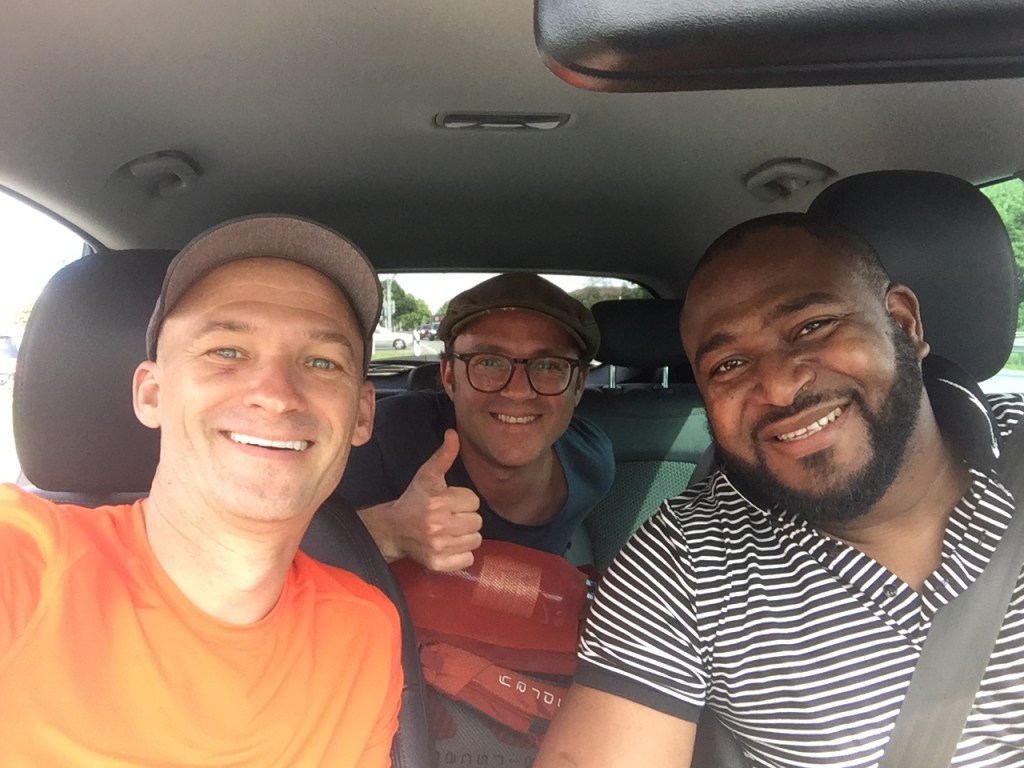 He's a filmmaker, a husband, a father and a traveler. Matthew has lived and worked every continent except Australia and Antarctica. Last year, he released two films, both a documentary and a narrative feature and wrote a book on the creative process and also recently released The Lover's Journal, a guided journal for couples that my wife and I created together. Jans got together with Matthew to talk about his life.
Why did you join Trustroots?
I was invited by my long-time hitch hiking partner and best friend. We started hitchhiking when we were sixteen (first trip northern Germany to the Cinque Terre) and over twenty-five years later, in our 40s, we recently did an amazing trip.
What was your best moment with a host (trustroots or just general/hospitality exchange)
One that stands out was long before Trustroots existed. I was hitchhiking from Germany to London with my girlfriend. I had a friend to stay with in London, but it was after dark and we were stuck on the side of the road, a couple hours away when an elderly gentleman picked us up. He had a car phone (a big deal then), so I called my friend. She was overwhelmed and said, "tonight won't work."
This elderly gentleman immediately called his wife and asked if he could bring us home for the night. When we arrived, it was a huge manor. His wife had wine, crackers and pate ready when we arrived. The guest suite had its own wing of the house, where we took a jacuzzi bath and finished with the sauna before bed.
The next day, he took us in to London.
What was your best moment with a guest (trustroots or just general/hospitality exchange)
How about a guest that becomes a very, very close friend? My wife had invited a couple to visit us in Nakuru, Kenya. But they booked an Airbnb and we had just planned to meet for dinner.
As it turned out, their place fell through and they sheepishly called to asked if they could crash with us. That was the beginning of a great friendship. We've stayed with each other many times since, traveled together – and even run the Kilimanjaro half marathon together.
What's your favorite way of traveling
I'm a bit of a travel-chameleon. In the year before COVID, I walked over 100 miles from where I lived to Mt. Kenya, camping and sleeping floors along the way before taking four days summiting the mountain. Later in the year, I hitchhiked through Germany. At the end of the year, I stayed a week in the nicest hotel in Kisumu. A walk through Africa is the best story, but a beautiful room overlooking Lake Victoria with amazing food, wine, a marble shower, etc, is a wonderful gift. Each has its place for me.

Learn more about Matthew on his website here.
---
Say hello to the "Warmshowers Refugees" by Tanja Caron
Mariha joined our team some weeks ago as a Warmshowers refugee. She was one of the contributors-volunteers who built the WS Android app and as a bike tourer herself, she was very committed to the community. She had been feeling that Warmshowers shifted direction gradually over the past five years and wasn't following the original philosophy anymore. The WS board recently released a new app and claimed the community built app (used by 55K users since 2012) was a security threat and urged everyone to switch to their new paid one. Mariha finally decided to look elsewhere for a collaboration and together with some other former Warmshowers volunteers she joined our team to discuss possibilities.
Since Warmshowers is only for tour bikers and their supporters, we talked about what they need on a platform and how Trustroots can help them out. Bicycle tourers have very minimal needs when traveling: a warm shower, a friendly person to chat over a meal and a safe place to stay for a night is usually more than enough. At the moment you could really help out these Warmshowers refugees by joining the cyclist circle if you would like to welcome them and update in your hosting description if you have safe storage for a bike. Bike tourers usually carry a tent, hammock or bivy with them and it could be useful for other members as well to add aside from a safe bike storage, if you have room for a tent in your garden so they can crash when their phone died and you're not at home. Note however the location displayed on someone profile isn't accurate due to safety reasons. Be sure to contact hosts before traveling and ask for the exact address.
In the mean time we're working behind the screens to explore features that Warmshowers has which could also be useful for our community, like visibility for people in your own circles only and adding a phone number to your profile. For now we would like to welcome all members who joined us from Warmshowers. May you find safe havens, hospitality and community spirit here on Trustroots like you did for years on Warmshowers.

See you on the road!
---
On the Road as a Hobo for 14 Years (and counting) by Shawn S.
Kenny Flannery left his hometown and family with nothing but a backpack, uncertain of his next destination. He just hit the road, hitchhiked, staying at locals homes through HospEx sites, and checked out local food and drink wherever he went. Well, it's 14 years later, and Kenny is still on the road, still making friends, still having adventures, still drinking new brews, and tasting new cuisines. We talked to him in depth in a video interview which you can watch here.
He's never stayed in one location for longer than a month, making him a true nomad and hobo as he treks around the planet. But what about love and relationships, what about community? Well, tune into the interview to learn more..
Kenny has created offerings as he travels, including his series on visiting breweries. he's actually raising a couple bucks to fund it, so check out his kickstarter if you want to support an independent travelers creative pursuit.

Want to learn more about Kenny? Check out his:
Website: Hobo Lifestyle
IG: @hobolifestyle
TV Show: @HoppingShow
Video Interview Below:
---
Bea's Journey Into the Multiverse by Shawn S.
Bea it would seem had everything going for her in Brazil. She had a successful media career working for companies such as Nike and Univision, had over 100k followers on her Instagram account and had many doors of opportunity available to her to continue her career in the media industry.

She had a radical change of heart though.
She wasn't happy in her job, and she didn't want to have boundaries anymore and have her life dictated by her company. So, she quit her job, deleted her Instagram account, sold all her designer clothes and left Brazil to as she describes to "connect with a deep sense of humanity."

"My life was a shit," she said. And one night while she was in contemplation, she had an inner light come to her and clearly say to her "Trust me."

"This light took me out of my body. I woke up and everything was beautiful and I could see downloads of the 'source.'"

Bea left Brazil to Europe soon after and trusted her journey each step of the way. She didn't have a plan and would sleep and go wherever the road took her. She hitchhiked around Switzerland, over to France, and Portugal where she had citizenship as well. She would go on to teach yoga, do performance art, make wonderful connections, volunteer and stay in communities. She would also find connections from Trustroots.
"Trustroots saved my life, really," She says.

She had been in a relationship that was beginning to turn sour, and when she felt she needed to leave, she turned to the Trustroots network and instantly found a good soul to connect with as she continued her journey.

One night she was with friends around a fire in Portugal just talking. She said in a joking manner that all she wanted to do was simply travel with a horse. Her friend decided to take her seriously, and the next day she gifted Bea a beautiful white horse. Bea packed her things, she named "Mandala" , and she went traveling with her horse.
It was a healing journey for her, and she would ride the horse south stopping along the beach, making friends, until after a few months she came to a know a community called "Land of Love." Someone told her about it before, and one day a guy came up to her and said asked what she was doing. After talking, he welcomed Bea and Mandala to the Land of Love, where he was a community member. After a little time, the community adopted Mandala and Bea decided to go back to Brazil as Covid began to grow around the world.

Bea's advice to travelers who want to be as free spirited as she is is while it can be really hard, she says to keep your frequency high, to silence your heart, to eliminate boundaries you may impose on yourself, and to look at the best side of every person and to smile often. While she had fears, even as a female, she never experienced abuse or danger, and the connections always came to her.
Currently, Bea is in Bern, Switzerland after a 9 month Covid quarantine in Brazil. She's continuing to travel, open to any opportunities, and is producing music, art and getting more involved in crypto.

"We need to trust each other. I believe in life, human connection, community and no boundaries. "

To connect with Bea yourself, check out her Trustroots profile, or on IG @OmFlowYoga.
---

A Photo Says More Than a Thousand Words by Ivan F.
"My Trip on Teide"
"It was my first 4000m high hike!" Paul said. It supposed to be the classic one, starting from 2000m and going to the top at 3,718m. However on the day before they spontaneously decided that it would be nice to start from the beach and hike the 4,000m in one shot!
"We started at 1pm with a single bottle of water. We assumed we would buy it from a store there but everything was closed!". It took them an hour to find people who are willing to give enough water for the hike. "It was difficult because of the length but to be fair, we are no less proud of it!" .
The best moment of this hike? "After walking under the stars for the whole night, we arrived just in time for the sunrise with a view on all other islands. Magnificent!" – Paul Grillet | Find Paul on LinkedIn.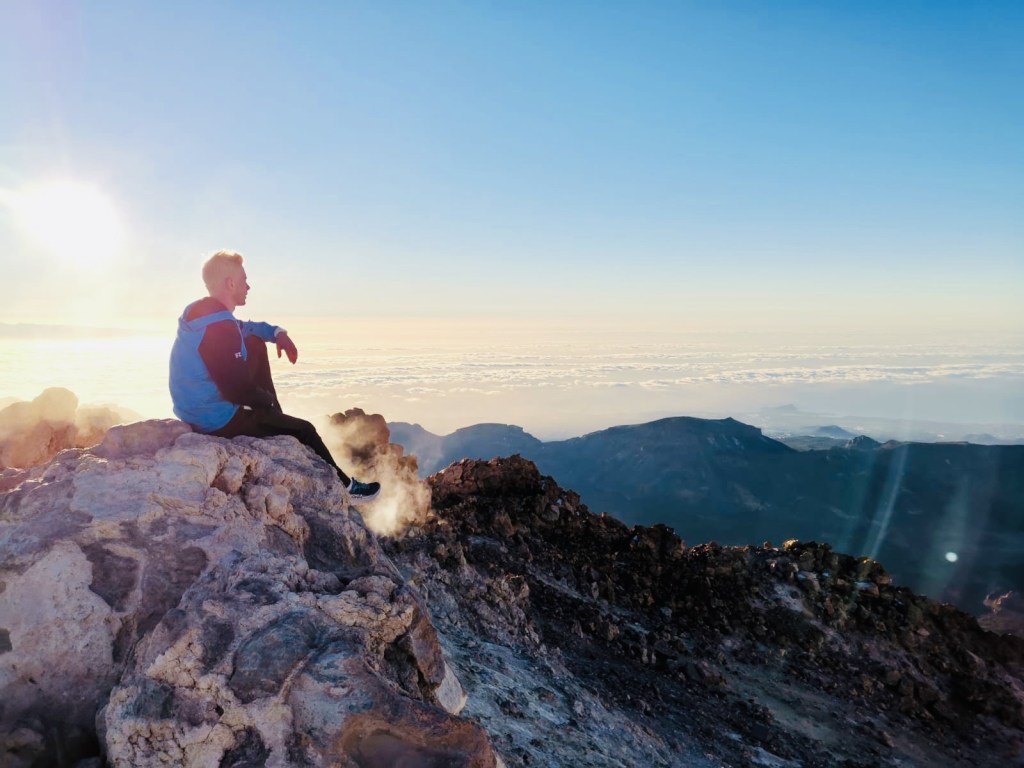 ---
"Dax en Annie"
Annie just turned 60 on March 9th. On that day, she started her 1,572km journey with Dax from their home in Mechelen, Belgium to Estivella on the Mediterranean coast of Valencia, Spain by foot! For Annie, walking is a form of therapy after overcoming cancer. She's sticking to her life motto Tabu soro; which means 'Never Give Up' in Fijian.
Dax; named after Jadzia Dax from Star Trek Deep Space Nine, is a working kelpie with a lot of energy and always manage to charm people around her. "We walk approximately 25 kilometers each day. And we try to meet people along the way, stay with new friends and add experiences to our lifes!" – Annie Timmermans.
Follow Annie on Instagram | @timmermans.annie or visit her blog.
---
"Hind the Yogini"
When I think of what's important for a healthy life, I think of travel.
Travelling gives you freedom. Travelling makes your emotions come alive. Travelling forces you to confront your personality. Travelling allows you discover new loves.
And, on a personal note, travelling exposes you to great food. Whenever it's a local or exotic dish, you can tell people's culture by the way they treat their food. And sometimes it's absolutely amazing! Being a budget traveller, I love how we gradually discover that life is not all material, but that everything we need in life is from within. And, of course, a cleverly packed backpack.
Follow Hind on Instagram | @yogini_ad
---
How to Write a Hosting Request!
Now the threat of covid is starting to slowly diminish many people are cautiously starting to look into the possibilities of travelling again. Soon you'll could be knocking on someone's digital door with a request to stay. A fair part of Trustroots user base are seasoned surfers and hosts. But for those of you new to all of this, or those of you just looking for inspiration here are some tips for writing a good host request.
This is the first in a new set of how-to articles based on the Trustroots Wiki. Just like to any Wiki these entries can be edited by anyone who wants to add something. So feel free to work on the entry on writing hosting requests, or on any other topic you can contribute to.
Read their profiles!
See if you may be compatible or at least get along.
Try to contact those who have logged on recently, you can contact those who haven't but if they don't have push notifications set up, they won't see your request.
If you're traveling with friends, make sure they all have profiles.
Introduce yourself
Start with a good impression and say the person's name
Introduce yourself. Don't tell your whole life story, but try a little harder than just saying, "Hi! I want to surf your couch." Don't copy/paste your request emails to try to get a couch.
Timing is everything
Don't rush, but don't be too early. If you need a couch by tomorrow, you are making it hard for yourself. Try to send requests 1-4 weeks before. Many hosts will have a hard time accepting couch requests more than a few weeks in advance
Don't feel bad about asking more than one host at the same time
Are you for real?
Make sure you have a complete and detailed profile.
Write about what you want to do in the place you are wanting to visit
And feel free to ignore any or all of these rules if you want. This is just what the collective wisdom of the contributors to the wiki, and is meant to help you on your way if you do find more effective methods why not add them to the wiki?
---
Share your moments
Every newsletter we're looking for stories and photo's to share with you, our community. Besides the newsletter we're using our social media channels to inspire and show people who don't know Trustroots (yet), what we're about.
Do you want to share your story with the community? Email us at [email protected]. There's also the possibility to share your favorite moments with us by uploading them through this form: https://forms.gle/HgjtibEEQsYCy15c8.
If you photograph frequently, have an active social media account or a huge database with amazing photo's, you can simply leave the link to your personal account at the form, so we can take a look. In the form you'll also find the general terms and conditions. Together we make this platform what it is, so why not share your amazing moments?
Relevant Links:
Facebook Group
Facebook Page
Whatsapp [Announce]
Whatsapp Community Chat
Telegram Community Chat
Instagram
Github