---
Table of Contents:

~ New Circles
~ Lets Meet in the Middle
~ The Traveling Psychology Advisor on Tour
~ #Trustroots Photos Around the World
~ Want to Join the Trustroots Team?
~ Relevant Links
---
Places are open, places are closed, again, Winter is here, Summer is here, migrations are happening all over, new love is blossoming, old patterns and lifestyles shifting and recalibrating.
Travel is happening, yet on a minimal level not seen in years or even decades. Some things are slowing down and going back to how it may have been. Maybe that's a good thing.
Travelers are looking for hosts in countries that are currently open, some borders have opened slowly, some have not, and some are looking for a warm place to land their feet in the Winter. And as some move around to other spots, there are hosts and homes to stay at, local dishes to taste, social gatherings to connect to and share whatever it is all of us are going through at this very moment.
In this newsletter, we share with you stories of encounters happening today, connections and reconnections being made, and the gifts we can share with each other.
Wishing you a happy end of year and one that is fulfilling. Come see what we have been doing at Trustroots to foster the connections that can very well change your life.
Thanks for reading as always,
Shawn Saleme
Newsletter Editor
---
New Circles
Yes, you read it right, after going through all requested circles for the last half year, having extensive meetings, passionate discussions if Pastafarianism should be a circle, and group meditation, we're happy to announce we have implemented six new circles. Check them out and find your likeminded spirits around the world. If there is a circle you want to see on Trustroots then send them to this short form. How can we improve circle features ? Come join the conversation at circle development.

ACTIVISTS: Power to the people! No oceans, no life! Make love not war! Join this circle to find your fellow activists, add your protests on the map and join eachother in making the world a better place.
FILMMAKERS: Aaaand action! Holding a camera, being in front of it, working on the tech side of things, traveling to find the best settings: If this all seems familiar to you, this is the circle to join. Find fellow enthusiasts, exchange experiences, work together on projects and of course travel the world.
RAVERS: Love dancing your ass off to beats in underground and secret locations? Come join and find out where the party is at around the world. If you know, you know.
SCUBADIVERS: If you love spending more time underwater than above land exploring amazing worlds, then this circle may be good for you.
RUNNERS: Anywhere you travel, do your running shoes come with? The more miles, the better? You even travel for big competitions? Whether you're a casual, free, marathon or trail runner, this is the group for you.
ZERO-WASTERS: Interested in reducing the waste going to landfill and incineration ? Connect here with people acting individually and collectively towards a waste free world.

---
Let's Meet in the Middle
It's November. After crossing the English Channel with my camper on the ferry to Brittany, France, I arrive in Cherbourg. It's grey out but not particularly cold. Through an app I find a free parking place nearby which seems to be very popular and since I'm driving alone for the first time it seems like a good place to start. As I drive up I see that it's only big white fancy motorhomes and not really any van-lifers here unfortunately. I tried to see if there are any other van-lifers around that want to meet up in the area, and turned to an active Facebook group.

Within a day I receive a message from a person named Sophia: "Hey.. I just saw your message and wanted to say hi! … We could definitely meet up in a few days, when our paths cross."

The next day I start driving North along the coast while Sophia is driving South and since we both prefer to take our time we meet up after three days in the middle.

Sophia proposes a parking near a bay which is famous for its seal colony. 'Wow, sounds amazing!' I thought. When I arrive the bar which gives access to the parking lot is removed. I guess that's the upside of driving around in Autumn in the North of France. Again, this place is like a village of mostly big fancy motor homes but at least here people actually using them. I find a spot and go to my routine of pulling out the stairs, putting a jerrycan below my grey water point and make some nice hot coffee.
The moment I see Sophia pulling up her van I see a furry companion very anxious to get out. Such a happy and energetic dog so we immediately go for a walk. The rest of the day goes by in a flash. We have the same passions like sustainability, conservation and of course traveling.

Sophia is a volunteer for the big only female travelers FB group "Her Adventures". I've never heard of it so when I hear from Sophia they have over 81.4k members, I was surprised. With this project they would like to redefine travel to be inclusive, sustainable and empowering. Aside from the group they have a site where they share blogs, podcasts and even a shop with merchandise. With their promise to "have gratitude, practice self-care, be self sufficient, be kind, be polite, be respectful, have integrity, be informed, be ethical and give back" I see a lot of similarities with our Trustroots community. The next day Sophia continues her travels South while I head North again. It was great meeting each other and I'm sure we'll meet again. Maybe I'll visit her in Germany when she gets back home or she'll join me on my sailboat back in the Netherlands. OR we'll meet again in the middle.
– Tanja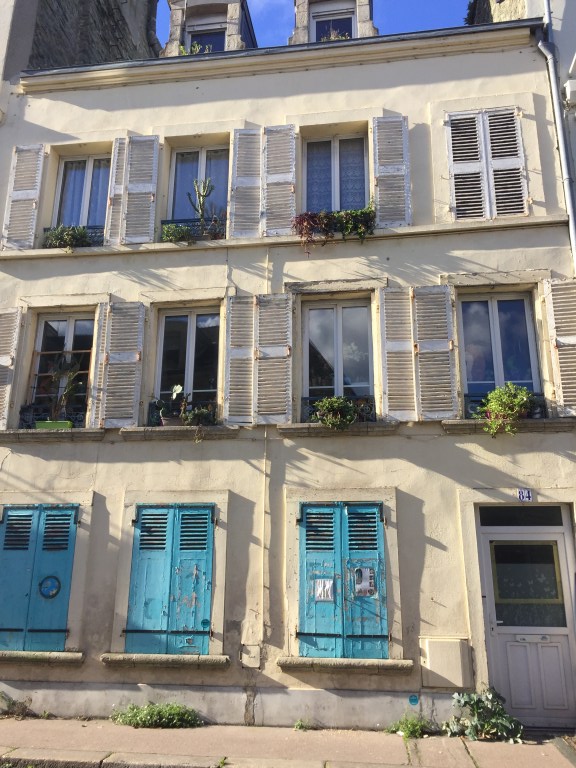 ---
The Traveling Psychology Advisor on Tour
After completing his first-year studying Psychology, Jens Thölke set a journey to Morocco. Exploring the outskirts of the Sahara desert through hitchhiking and staying at the houses of kind locals has impacted his view towards the world. However, it all started about a year and a half ago when he did an internship in the slum area of Mombasa in Kenya where he worked on development with orphaned children.
"I had a profound realization about something that our Western culture seldom takes into consideration. The job title, education, or the amount of money in your bank account do not matter. The only thing that matters in life is how you behave towards other people and what value you bring into the world". This experience thereafter leads Jens to choose living a minimalism life as a retreat from a societal system that encourage addictions, prejudices and break away from material possessions.
Putting together his way of life, experiences, knowledge and the love to travel, Jens initiated a social project called 'The Traveling Psychology Advisor' – or the TPA for short. The TPA offers counselling for anyone who's in need of support without charging a single penny. It covers topic such as self acceptance, stress management, dissatisfaction in life, relationship and communication problems. The idea behind this project is to provide people who don't have access to certain services because of where they live or their financial situation. He realized that something essential is missing in this space. Even in Europe the availability of psychological assistance within the public healthcare system is inadequate or even non-existent. The access for getting help and support also can be extremely difficult and time-consuming and on top of that, counselling always associated with high cost and more likely available in cities than rural areas.
Being nomadic, Jens move around with a modified former boat transporter Mercedes-Benz 814. A green-painted construction container mounted on top of it. He has been living in the 20 square meter space since May this year. He built the interior with the help of a friend. Inside there is a small kitchenette with gas cooker and compressors refrigerator, a sofa bed, a wardrobe, bookshelf and coffee table, even a small fireplace to keep the temperature warm during cold days. It is also equipped with solar system as main power supply, small bathroom with composting toilet and a water tank that could lasts more than a week. In addition, he built a veranda that also functions as storage at the back of his moving tiny house.
When asked about how long the TPA will be going on, he said that it really depends. Currently, it has been funded from his own pocket but the continuity of the project relys on sponsorship and the donations he receives. He would like to continue the TPA for several years, going through Europe, across the Balkans, and if possible extending to Iran, India, Thailand or maybe even Indonesia, where he once did backpacked..
Jens is currently touring through SouthEastern Spain and making a stop over in the region of Murcia. He has been on the road for a couple months now accompanied by 8 months old Briard named Baloo. The first two months of the project, he had over a hundred persons signed up for appointments through meeting in person and online sessions. Up to this point, Jens never had any difficult experiences although at times it's a challenge to find parking spot for his house and the constant need of decent internet connection since counselling are also given online for those who could not meet in person. For example people from the other side of the world as far as United States, Japan, India and others are having consultations virtually with him and for Jens himself , all the experiences have been positive.

He describes his best moment is when each person he meets appreciates the help he could offer. Even though he didn't really plan where he's heading to next, he takes every possibility on what option is available and whatever life throws at his feet. Until then, he will continue to help as many people as possible.
To find out more about Jens' project and book a meeting with The TPA, you can proceed to the Traveling Psychology Advisor homepage.
Find The Traveling Psychology Advisor on Instagram @thetpa_ontour
---
#Trustroots
It's been a while (2.5 weeks to be specific) since we moved out of our school campus. We still don't have an apartment but we always found a place to stay. We met many amazing people that took us in and let us experience their reality. I'm extremely grateful for my privilege to live such a simple life even when it's challenging sometimes. You never realize how lucky and privileged you are until you lose it. For me being hostless (homeless) for a while is an incredible eye opening experience that showed me how lucky I am to live the life I live.
Find Martina on Trustroots @martina98 | Instagram @margienna
Circle of Life
When we returned to the U.K. about four months ago we donated our beloved bikes, with the help of our wonderful @trustroots hosts and @atelier_de_reparations_coll we left the bikes in their care and we have now received word that the bikes have found their new homes!
Their adventures continue! It was quite a big deal for us to part with them and it hasn't been easy at times, however knowing they are now with new guardians who seem equally happy to have them makes us smile 😊
To give and to receive, the circle of life.
Find Rose & Albert on Trustroots @the-fat-earth | Instagram @the_fat_earth
Voyager, c'est partager
To travel is to share.
This is the universal language when you are faced with language barrier. Let's learn to communicate with the heart, share an experience to keep and leave wonderful memories. I always travel with a 'happy kit'. I always carry at the bottom of my backpack a magic trick that my father had taught me; a nail polish, to make the women I meet even prettier.
The most beautiful thing about travel is the interaction you can create without having to speak. There are no boundaries for sharing.
Find Cécile on Trustroots @ccyl | Instagram @cecileravaux
Day 153 – 🚲 KM 4673 🇪🇸
In Austria, there are apple trees everywhere! The cider have the first place in traditional drinks. It's on all of the tables. Even in the bar and restaurant. They serve it by an original way. The right hand with the bottle up and the second hand with the glass the most down. It gave gaz to the liquid. They serve only 2 cms in the glass. And you have to drink everything directly ! We visited the cider company El Gaitero on the way to go to El Puntal, where we were host by this lovely family ! Thanks again to them for those precious moments.
Find Max & Marie on Trustroots @bike_circle | Instagram @bike_circle
Although life has a slower pace here, time is flying. Breakfast in the sun, working on new art, surfing, lunch, walking along the beach and all of a sudden the day is gone. For three days this is still my outdoor work space, then I'll be on the road again to find new inspiring surroundings.
Find Rob Van de Wiel on Trustroots @robmakesart | Instagram @beachbumb_rob
Hitchhiking and wild camping Mallorca:
* Kind local people with waiting times only minutes
* Easy wild camping spots despite all the private property signs
* So much free cake that we felt sick
* Hosted in a converted monastery
* Moved on by the police for hitchhiking at the entrance to the motorway. But even they were pretty pleasant, weirdly.
What a friendly island.. I highly recommend :)
Find Lisa on Trustroots @aimless | Instagram @aimless.travels
---
Helping Trustroots in 2022
We are a volunteer driven organization, and we can't do anything without the efforts of all of our volunteers. We have some exciting projects we're beginning to work on including creating more connection features on circles, design and launching our iOS app version.

We are open-sourced, and carry a do-it-yourself culture. We have a group of volunteers to welcome you and orient you onto how we have worked together. We have weekly meetings at 18:00 UTC every Tuesday at Meet.jitsi/trustroots and you are welcome to pop in anytime and see what's cooking. Come help connect people around the world. Or just go to our Github link below and knock out some work.
---
Relevant Links:
Facebook Group
Facebook Page
Whatsapp [Announce]
Whatsapp Community Chat
Instagram
Github