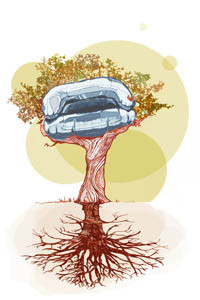 I'm writing down my own opinions, ideas and experiences, these are not necessarily shared by other team members.
The roots of this website have been growing for a long time. Back in 2005 I wrote an article about how hospitality exchange websites should be based on free software and free from censorship. In August 2006 I joined the Couchsurfing Collective in Montreal. For a couple of months I traveled to amazing places with fun people while feeling the excitement of potentially changing the world in a big time, reaching a 100.000 people ready to share their homes to strangers, while working with some amazingly smart people.
More than hospitality
Of course I didn't have the illusion that merely surfing couches would suffice to create peace on earth, but I saw couchsurfing as a way to get to something bigger. Do more than just hospitality. But for that to happen it was important to grow it into an organization ran by volunteers working in a way similar to open source projects. With code under a free license. During the discussions about Couchsurfing's outrageous non-disclosure agreement early 2007 it became clear to me that that wasn't going to happen. (And meanwhile BeWelcome was launched in January 2007.)
The roots of Hitchwiki
Hitchwiki didn't start of as "Hitchwiki". When I started hitchhiking there was no good source with hitching info. I came across a hitchhiking wiki, started editing there for a while. But it was quickly overrun by spam. No admin in sight. So I moved it to Wikia, with ads and not much room for customization. In November 2006, while at the Couchsurfing Collective in New Zealand MrTweek and I moved it to Hitchwiki.org – after I refused an offer to put it up at hitchhiking.couchsurfing.org and host it on couchsurfing servers – we can all be very happy for that.
In the past 8 years Hitchwiki has grown into the ultimate resource for hitchhikers. In 2008 or so Mikael appeared and offered to add a mapping application to Hitchwiki. "Do it!" That's how things grow. We also launched some other projects, some relatively successful (like Trashwiki), some abandoned to some degree and others hopeful and in need of some growth (Nomadwiki, Veganwiki). I've also joined and hosted a couple of hackathons to work on these projects and also on BeWelcome.
Democratic open source projects
BeWelcome is a great project and I'm still very much supportive of the concept of democratic open source hospitality exchange. Unfortunately I don't feel the time I spent on improving BW has been very effective. It's hard to create software by committee. There has definitely been progress but I think the whatever happens at the start of a project can largely determine its future and with BW the code base that was used as a start was far from ideal. Another issue is the fear of power concentration. BW was started by people who had been dealing with a dictator- management style for years within Hospitality Club. I tried to move a bit more towards a do-ocratic way of working, but this didn't really work out so well either.
All in all I'm happy for trying but it's clear to me that my time and energy are better spent elsewhere. I didn't come to this conclusion on my own and thus it was finally time to pick up some pieces and ideas.
Taking (trust)root
Trustroots was released 4 days ago. Almost all of this was the work of Mikael. Callum and I first wanted to build it in Meteor, a very nice real-time JavaScript framework but we kind of stalled with that. Mikael simply went ahead and did it with Mongo, Express, Angular and Node (MEAN). Do-ocracy at work. Now there's a working proof of concept.
In a very short time hundreds of people have joined and this is with the most MVPish thing we could imagine. And whenever I check the numbers these days I see more and more people. Of course this growth can flatten very soon if we would stop here.
Next steps
1. beyond hitchhikers
Hitchwiki will be a great place to really get Trustroots growing. We have many visitors on there and if we properly integrate the two projects we'll see a nice boost.
Another fairly obvious step is to look behind hitchhiking. Warm Showers is a great website for traveling bicyclists. It's fairly good at what it's doing, so we won't do the same thing for bicyclists, but we will do it for dumpster divers and for traveling veg(etari)ans it can be very nice to stay with (and host) like-minded people – plus this will be a nice way to grow the related wikis.
I see this happening as follows: people can sign up to be part of specific groups (e.g. only veg) and we'll only do this for a limited number of groups so we can quickly get enough critical mass among a specific niche group. Using the spread and growth of hitchhikers (who are constantly meeting people) we can extend into other fields.
2. API and mobile
Most important for mobile is that the web app Trustroots works well on all mobile browsers.
An Android app would be an excellent addition and I expect someone (contact us) will come up and offer building one very soon. This requires a solid API though and I'm not yet sure how this works out with the mean stack we're using.
3. trust beyond hospitality exchange
Since 2007 sharing has become big business. Uber and Airbnb have 9 figure valuations. This wasn't exactly what I had in mind when I was dreaming of a better world in 2006 but it's exciting to see that there's a lot more potential for new things now. We should go and build a ride share application that works for hitchhikers – and that works within cities.
We also want to share resources and connect people beyond couches and transport: adventure! I'm thinking along the lines of the Decentralized Dance Party and real life gaming. Once we have gathered enough trust in a city (Berlin will probably be the first) it will be possible to organize ad-hoc pot lucks and share resources among people in a much wider scale.
As for trust itself, I'm about to restore a project I worked on before. In 2007 I spent some time in Italy doing research and writing code related to trust metrics. I'll write another blog post about these things soon.
4. A Trustroots collective
We'll organize a Trustroots collective some time in Spring, somewhere in Europe, most likely in Berlin. We want to keep it focused, open and clear.
Legal and financial
We want to focus on growing this thing and adding new cool features. We promise to set up some kind of European non profit organisation and we need your help with that. Ideally we want to be able to handle most of this online and in English.
Financial resources would be nice to allow us (which can include you) to spend more time on this project, in the form of paying for rent and other expenses. If this can be done through donations, great. Another possibility is looking for grants (but that's probably a full time occupation on itself, wanna help?). I definitely want to exclude advertising: no ads on trustroots.org.
Other spin-off projects
In the long run however I think the code (and the team of people we're building) can have a lot of potential and I'm personally not excluding the possibility to use the same code base to build a project that is for profit, e.g. around cryptocurrencies such as Bitcoin or Ethereum. As for how to set up such a thing, I like Mozilla's example, which is a company owned by a non profit.
Just to be clear I promise that the core hitchhiking Trustroots project remains non profit and faithful to basic principles, just like Hitchwiki.
Wanna help?
Further reading